Make Your House Work for You

Debt Consolidation
  Build Your Credit

Home Repairs

Home Equity Lines of Credit... DID YOU KNOW?
Has your home been working hard for you? With home's values increasing, it's time to take advantage of all your home has to offer. Home is where you spend most of your time, eating, sleeping, spending time with family, living. You deserve to use your home to your advantage. You've spent hours making it into a precious place for yourself and your family, now let it help you with your expenses.
Do you know how your home's equity can help you? You've got another home renovation coming up or that upcoming Spring Semester tuition bill on the horizon, that will definitely make a dent in your bank account. What if you could avoid the sudden hole in your wallet? By opening up a Home Equity Line of Credit, you can pay for your larger upcoming expenses without having to spend on a tight budget the next few months. With flexible repayment options, Texas Bay Credit Union can help you ease the tensions of that next big project.
Borrow for What You Need:
Home Improvements
Consolidate Debt                                                                              
Unexpected Expenses
Medical Bills
Tuition Payment
Vacations
And MORE
This isn't like other loans. This is a line of credit that is based on your home's equity and provides you a financial cushion for life's unexpected events. Your home has been building up equity as you make monthly payments on your mortgage. The equity creates a pool of funds you can use as collateral to pay for expenses such as renovations, medical bills, college tuition and so much more. You can then pay it back at your pace and with a lower monthly payment.
How Much Equity Do You Have?
Appraised Value  –   Mortgage Balances   =   Home Equity
Unlike a home equity loan where you receive the lump sum of the loan all at once, you are able to borrow only what you need* and pay it back in installments, that will not only help you to keep up with your payments and know how much is going to be exiting your pocket every month, but also it will lower your credit utilization rate, thus improving your credit score.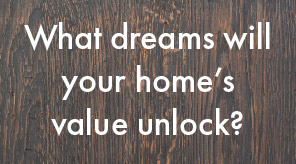 One of the benefits of having a home equity line of credit is the low interest rates. The interest rates are usually much lower than other types of credits or loans. However, keep in mind that as all this is true, you are using your home as collateral. While you may be having all the benefits, it is important to note that with everything great, comes responsibility. The Home Equity Line of Credit may help you bridge the costs of your next big project or help to consolidate all the outstanding debt you have, but it will also help you keep budget and plan for your big purchases. Ask yourself: with the help of this line of credit, will I be able to pay it back in the low monthly payments of the term? Will I be able to finally afford all the things I need by consolidating my debt into one payment a month?
At Texas Bay, the answer is YES! With our trusted Team Members, you can create a plan one-on-one on how to better fit your financial needs. Opening new lines of credit can be scary, but as your trusted Financial Partner, Texas Bay Credit Union can make banking transparent and easy. Let us help you reach your financial freedom TODAY!
Reach out to a Texas Bay team member today to get your questions answered or to get started.
Disclosure:
*Minimum Home Equity Line of Credit amount is $10,000. Loan amount cannot exceed 80% of the collateral value, less outstanding liens. 
Interest paid on a Texas Bay Home Equity Loan or Line of Credit might be tax deductible; please consult your tax advisor. Credit criteria applies.