Are You Ready?
Your journey to financial freedom starts here!
Whether you are just starting out, looking to improve your financial situation, or just looking for some guidance on meeting your financial goals, Texas Bay is here to assist you on your journey toward financial success. We want to be your partner in helping you take charge of your financial future!
Our team has a passion for educating and coaching our members on their financial options at Texas Bay. Our holistic focus on financial wellness allows us to help all of our members in more ways. 
Do any of these thoughts keep you up at night?
I need to save more money!
I need to improve my credit score, so I can get approved for my loan and get a good rate!
I need to consolidate my debt!
I really need a lower car payment!
I need to make some home repairs, but I don't have the funds available!
I want to purchase my dream home, but I don't know where to start!
Texas Bay has all of the tailor-made solutions for your needs so that you can remove all of the financial worries that keep you up at night. Stress is the leading cause of health issues, and finances are the leading cause of stress. We want to be your partner in helping to eliminate stress from your life.
Schedule your personal financial wellness check to see how healthy your finances are and receive coaching and solutions to areas that you want to improve.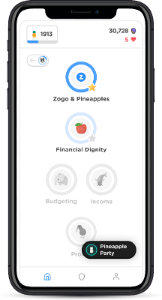 Get Paid to Improve Your Financial Literacy with Zogo!
Want to earn money while you learn about money? Now you can! Zogo is a free app that rewards you for completing bite-sized personal finance lessons. Learn about everything from saving, to buying a home, to investing and more. Level up and earn while you learn with real-life rewards - like gift cards to your favorite stores!




Texas Bay is happy to put our expertise to work and provide you with the educational resources below to help you budget your expenses, strengthen your credit score, save for essential purchases, and protect your investments.