Quick Information
Local Phone Number
713.538.1329
Toll Free Number
800.577.3164
Routing Number
313082935
Mailing Address
12611 Fuqua Street
Houston, TX 77034
Text Our Member Center
Text: 832.810.0448
Mortgage Department
Call: 713.852.6888
Text: 832.810.0588
Need loan payment assistance?
Text our Payment Group: 832.810.0490
(DO NOT text for debit or credit card issues)
Letter of Guarantee Requests
Call: 713.852.6983
For Garnishment, Levy, Freeze, or Subpoena
Fax: 713.852.6996
Credit Card – Report Lost or Stolen
Call: 866.299.7470
Debit Card – Report Lost or Stolen
Call: 833.809.9983
Debit Card – Report Dispute
Call: 713.489.5637
Debit Card – Activation/PIN Change
Call: 800.992.3808 
Message us!
Texas Bay's Member Call Center is available:
Monday - Friday: 8am - 6pm & Saturday: 9am - 12pm 
* Asterisk denotes required field
Thank you for your submission!
We will be in touch with you soon.
Answers to Your Most Frequently Asked Questions...
How do I send a Travel Notice?
What are your locations and hours?
Texas Bay Credit Union has 9 branches conveniently located throughout the Houston area. For a complete list of locations and hours, please visit this page. You can also use our Branch Locator to find the branch, Texas Bay ATM, Shared Branch, or an AllPoint ATM nearest you!
Texas Bay's Member Call Center is available:
Monday - Friday from 8am - 6pm
Saturday from 9am - 12pm
You can access your Texas Bay account anytime by logging in to e-Banking at TexasBayCU.org or downloading and using our mobile app. 
Enroll today to get 24/7 access to: 
e-Statements
Transfer Money
Manage your Mastercard debit and credit cards

And more! 
Our member contact center is also available to assist you 713.489.5637.

Where can I find my routing and account # for direct deposit?
To locate your account number for a specific account while logged into e-Banking, on the account screen select the account that you would like the deposit or payment to be initiated. At the top right of the page under Account Details select Full Account next to Account Number. The Texas Bay routing can be located at the top of every page on our website.
If you need documentation of your account information for an electronic deposit or withdrawal, please send us a message in e-Banking, call us at 713.489.5637 or visit a branch.  
How do I login to Digital Banking?
From a desktop computer:
Visit our home page. Near the top left corner, select Login, then enter your Login ID and Password, and click Login.
From a mobile device:
Download the Texas Bay app from your device's app store. Enter your Login ID and Password.
First time Digital Banking user:
If you are unsure of your Login ID, please contact us at 713.489.5637 and we can assist you. 
Can anyone join the credit union?
Texas Bay is happy to serve all of Harris, Montgomery and Fort Bend County along with portions of Galveston and Brazoria. For complete membership requirements please visit our Membership page.
What is your ABA routing number?
Texas Bay Credit Union's routing number is 313082935.
The Routing Number is also called an ABA number or routing transit number. You can also find the 9 digit number in the lower left-hand corner of your checks.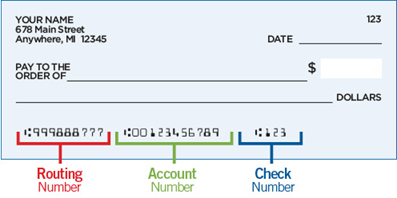 Financial institutions use routing numbers in order to process payments electronically -- you will need a routing number to establish direct deposit, set up an online bill payment through e-Pay, or to send a wire transfer (domestically or internationally). 
What is the maximum amount of money you can withdraw using your debit card at an ATM?
There is a daily ATM withdrawal limit of $500 a day.
What are your loan rates?
Whether you are looking for a personal loan or auto loan, we offer competitive rates on our loan.
Since rates change periodically, please visit the loan rates page of our website to make sure you're viewing the most current rates.
How do I make a loan payment?
You can make your Texas Bay loan and credit card payments with just the touch of just a few buttons and from the convenience of home. With two payment options available, pay your Texas Bay loans quickly and securely using funds from your Texas Bay accounts, funds from another financial institution, or using an alternative credit card.
How do I get a new debit card?
You can visit any of our 9 branches to instantly receive a new debit card or order a new card to be sent to you through the mail. You can also request a new card through our secure messaging in your Digital Banking account or by calling us at 713.489.5637.
How can I apply for a scholarship?
To learn about scholarship eligibility or to apply for a Texas Bay scholarship, please visit our scholarship webpage.
Disclosures & Privacy Policy
What information do I need to give the sender so I can receive a wire?
To receive a wire, please provide the sender the following information:
Beneficiary Financial Institution:
Texas Bay CU - 
ABA/RT: 313082935  
Phone: 713.489.5637
Address: 12611 Fuqua St., Houston, Texas 77034
Beneficiary/Final Credit to:
Your Account # at Texas Bay CU
Your Name
Your Address
Texas Bay offers both domestic and international wire services. For wire fees, please see the
Fee Schedule
. 
Outgoing wire cut-off times are 1:00pm CST for international wires and 3:00pm CST for domestic wires. Any outgoing wire requests received after the cut-off time will be processed the following business day.
How do I set up Direct Deposit with my employer?
Click the below link to access the Direct Deposit form. Complete the form with your account information and sign, then present to your employer to begin having your paycheck automatically deposited into your checking and/or savings accounts with Texas Bay.
Utilizing your Perks or Premium Perks checking account with Texas Bay allows you to take advantage of all the Perks your account offers!