How to be Successful at Saving

  Grow Your Nest Egg
You're starting fresh this year, and you have promised yourself, you will SAVE this year. Saying it is one thing, but taking action is another. Obstacles, deadlines, outside factors are all things that can sometimes steer you away from your goals. As your trusted
financial partner
, we want you to succeed in knocking out your financial goals this year! With that in mind, here are a few tips on succeeding at saving.
Take Advantage of:
a savings account so you have a place to grow and set up automatic monthly deposits into your savings account. Even if it's just $20, it's better than $0!
Preparing a goal for every month; if you know the end goal but aren't sure of how much to put away each month, take a look at our financial calculators to help you out on how much to save each month so you can reach your target
Don't panic if you miss a month. You can add a little more in the later month, but don't make it a habit to pile on more while skipping. Save money in increments. Otherwise, you won't be as motivated to keep it in there and could prove to be tolling
Check your status frequently through mobile banking to motivate yourself to keep going and see your progress. There's a certain thrill seeing how far you have come and how much your savings has grown.
A Save to Win Certificate of Deposit

Not only does it have competitive rates that help build a savings in 12 months, but you also get entered for a chance to win up to $5,000 with each $25 deposit monthly or quarterly*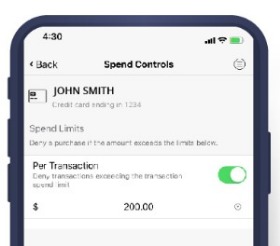 Card Control:

Open the app and set spending limits on your card, so you can budget easier
A few things to keep in mind are that while you are still saving money, it is not forbidden to spend a little. Sometimes debt can be helpful to build your credit and overall financial health. Of course, it never is good to have too much of something, but debt can remind you that your savings are valuable and that while you are working to build your savings, you still have responsibilities.
What Kind of Debt is Good?
A Credit Card

Not only do credit cards help build your credit the more you pay on a regular routinely basis, but they also show how healthy your finances are
Paying high interest rates on your credit cards? Transfer those balances to your low rate card so more of your payment goes to paying off your balances and not interest. With the Texas Bay Credit Card you can transfer balances and receive 0% APR for the next 12 months**
A share secured credit card: it helps to build credit positively by securing money in your savings to pay off your card

This can help you start getting used to a routine payment without having your savings go down nor worrying about having to miss a payment on your credit card

A Personal Loan

Consolidate your bad debt into a personal loan at a low rate so you can pay it back in low monthly payments with more money going to paying off balances and not interest.
Personal loans can be used for more than just big purchases. Use a personal loan instead of high interest credit cards to pay for tuition, house renovations, or even that dream vacation.
Our members' goals are our goals, so if you want to succeed in saving, best believe we will be here with you every step of the way. Don't hesitate to
stop by a branch
and ask for how you can build your nest egg for your future. If you can't stop by,
contact us
! The Texas Bay team is always available to help our members out. 
We are here for you, so take advantage of it. Let us help you knockout your 2022 goals.
*Your 12-month Save to Win CD not only gives you 4 entries into monthly and quarterly cash prize drawings, but in addition, you will be gaining interest on your savings, and each additional deposit of $25 gives you more entries to win. Earn a maximum of 10 entries per month, 30 per quarter. The more you save, the more chances you have to win
**0% introductory rate on balance transfers and 5.80% intro rate on purchases for 12 months from the date your account is opened. After that, a standard variable APR will be 7.99% to 18.00% based on your creditworthiness. Cash Advance Fee of $10 or 3% of the amount of each transaction, whichever is greater. Balance Transfer Fee of $10 or 3% of the amount of each transaction, whichever is greater. Foreign Transaction Fee of up to 1% of each transaction in U.S. dollars in addition to any other applicable fee. No annual fee. Terms and conditions are subject to change without notice.