Texas Bay is #1
We have BIG NEWS! Texas Bay Credit Union is officially Google's top-rated Houston-based credit union!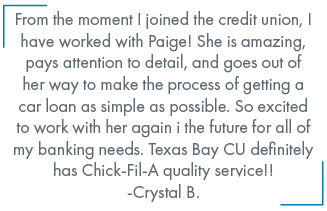 Compared to 73 other credit unions, Texas Bay ranks #1 on Google with an average rating of 4.64 stars on over 900 reviews! Texas Bay is the only multi-branch credit union to have ALL locations rated 4 stars and higher. The credit unions that come closest to matching our average rating have anywhere from 500-800 fewer reviews than Texas Bay. Those that come closest to reaching our number of reviews still have over 300 fewer reviews and an average rating in only the 3-star range.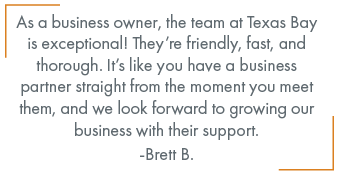 Thank you to our members for the reviews you've left us over the years. You don't just give us a star rating on Google. You take the time to write us thoughtful and heartwarming reviews that inspire us to be even better every day. It's because of YOU that we can celebrate today.
Thank you to our team for working tirelessly each and every day to find solutions for our members. Your commitment to helping our members reach their financial goals shines in everything you do.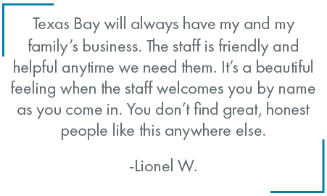 When you bank with Texas Bay, you can be confident that you're trusting your finances to Houston's premier financial institution. We take being your financial partner seriously. Your goals are our goals, and we'll work with you to tailor-make solutions that fit your needs.
 We look forward to many more years of serving our community and helping you reach your financial dreams.