Business Spotlight: Moto U & H2O Express Car Wash
Business Spotlight: Moto U & H2O Express Car Wash
Brett Bertrand and Chris Dangerfield are the high-energy entrepreneurs and co-founders of Moto U, and its subsidiary Refresh your Ride. Together with their two other partners, Alan Daly and Pete Cushman, they're building a business in an industry where rapidly learning and adapting to change is a way of Pivoting to Success.
Bertrand, Dangerfield, Daly, and Cushman all worked for Texas Direct Auto during the "buy your car online" automotive industry hype of the early 2000s.  To meet demand, Texas Direct Auto in-housed their preferred vendors such as Dangerfield, the owner-operator of Houston Auto Airbags & Electrical, later renamed Texas Direct Auto Care, Alan Daly, owner-operator of Dent Free America, and Cushman, owner-operator of VIP Upholstery.  Bertrand was one of Texas Direct Auto's Operations Managers, then Senior Production Manager, and a key member of the organization's expansion team, leading to numerous business locations throughout Houston and other cities in the US. Their work together at Texas Direct Auto and their love of everything that goes vroom, brought all of them together once more in 2020 through Moto U and its subsidiary, Refresh Your Ride.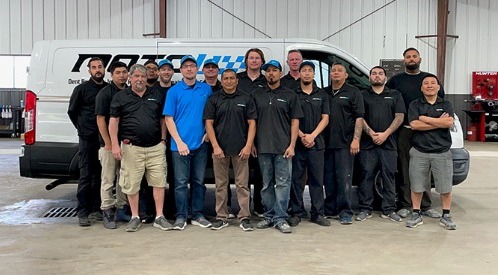 Moto U is a one-stop-shop for dealerships and individual drivers, specializing in vehicle reconditioning, offering full cosmetic and mechanical solutions, all under one roof. On the commercial side, in addition to their current services they provide to dealerships, Moto U will soon buy mid-condition cars at auction or from the public, recondition them to make them front-line ready, and sell them to dealerships. On the consumer side, Moto U offers to Refresh Your Ride; a way to bring new life to your vehicle. Refresh Your Ride provides everything from the windshield repair, paint and body, dent repair, paint correction, and auto repair and maintenance.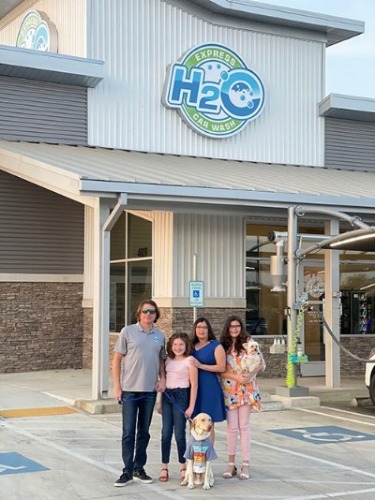 Based on Houston's Southwest Freeway, Moto U will bring the shop to you and refresh your ride at your home or workplace. The service is beneficial to parents who want to freshen up an older car to give to their newly licensed teen or to those who want to keep their vehicle looking the way it did when they drove it off the showroom floor and "Making it Fun to Drive Again."
One of Katy, TX community's local favorites, H2O Express Car Wash was founded by Chris Dangerfield. This family-owned and operated business opened its doors in February 2020.  As you may recall, it was the beginning of the pandemic and a very challenging time for small businesses.  Dangerfield was immediately tasked with growing a new business during an unprecedented time in history.  He had to rapidly adapt to change, think creatively, and pivot his new venture into what is now leading a few new trends in the Car Wash Industry. 
H2O Express Car Wash is an eco-friendly car wash facility providing high-quality exterior express car wash services while conserving water and using top-of-the-line products to protect your vehicle. They offer a variety of carwash services and Quality Unlimited Wash Plans. Every wash includes the Self-Serve Vacuum Plaza Amenities: use of vacuums, air compressors, mat cleaner, towel dry assistance, and high-quality cleaning products for customers to use during their visit
Want to keep your ride in tip-top shape? The reconditioning professionals are here with their tips to keep your vehicle running smoothly and looking it best.
Don't ignore maintenance or warning lights. Address any issues as soon as possible instead of letting them build up into something bigger.
Clean leaves out of your fresh air intake as soon as possible to prevent clogs and odors from developing.
Clean off bird droppings as soon as possible. If left too long, they'll begin to erode the vehicle's clear coat.
Wash your vehicle weekly to keep debris, seasonal pollen, and dead bugs off your paint.
Keep your wash gloves and towels clean to prevent dirt or small rocks from causing scratches on your vehicle.
Use a microfiber cloth instead of a shammy to prevent swirl marks.
Bertrand and Dangerfield would like to share with aspiring entrepreneurs their top tips on how to build and establish your business:
1. Write it down.
Writing down your goal makes it tangible and gives you something to work towards.
2. Take it piece by piece.
It can be easy to get overwhelmed by everything you need to do to start a business. Take things one step at a time.
3. Don't be afraid to ask questions.
Asking questions allows you to keep learning. There is always something new to learn and a new methodology to run your business. Also, don't be afraid to ask hard questions. As the saying goes, if you don't ask, the answer is always no.  There will be many bumps along the road to success, but it is essential to keep going. "The opposite of success is not failure. It's to do nothing," says Bertrand.
4. Maintain Good Customer and Business Relationships.
Consumer loyalty and business connections are essential to growing your personal growth, professional and business success.

Push yourself to think outside of the box by being creative, researching ideas, and growing by educating yourself thru research, action, and relationships.
Our friends at Moto U and H2O Express Car Wash would like to help you keep your ride looking its best by offering special discounts to our readers now through May 31st!
Need your ride refreshed? Check out Refresh Your Ride or call 281-946-6868 and use promo code RYRTBCU15, at the time of the transaction, to receive 15% off your services to get your vehicle looking like new again!
Head over to H2O Express Car Wash located at 4809 FM 1463, Katy, TX 77494, and scan the barcode below at the kiosk to apply your discount for a High-Quality H2O Single Wash; for only $12.95!